21 Jun, 2017
by Fred Mac Donald
The hidden dangers of Second hand vape

What are the hidden dangers associated with second hand vape "smoke". Some interesting research done by "the Californian Department of Public Health" with comments by Prof Micheal Siegel, physician in preventive medicine from the School of Public Health
Posted in: General
4 Nov, 2016
by E McAtarsney
A billion people projected to die - A must see film for smokers and their loved ones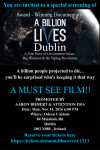 Watch the 'A Billion Lives - Official Trailer'. A must see film for smokers and their loved ones.
Posted in: General
Updated: 7 Jul, 2016
by E McAtarsney
TPD (Tobacco Products Directive) What it means to Vapers.

2016, sees the introduction of the Tobacco Products Directive throughout Europe. These new rules will affect the sale and use of tobacco and tobacco-related products, including e-cigarettes, in Uk & Europe. From what ever side of the fence your on?
Posted in: FAQ